Find anything with our powerful Bible search
Search inside Life Bible is unlike anything offered in other Bible apps. While other apps will search only one translation at a time, Life Bible searches over 40. Never again get "no results" when searching. Simply type a keyword or phrase and find the results in your favorite translation or all translations.
How to perform a search
Open Life Bible

Tap Search in the bottom bar

Tap the search bar to bring up the keyboard

Type in a keyword (e.g: light), then tap "Search"

A list of search results should appear. To quickly navigate to that verse in the translation that it appears in, simply tap on a result.
Phrase Searches:
When two or more words are searched, the app will look for an exact phrase by default: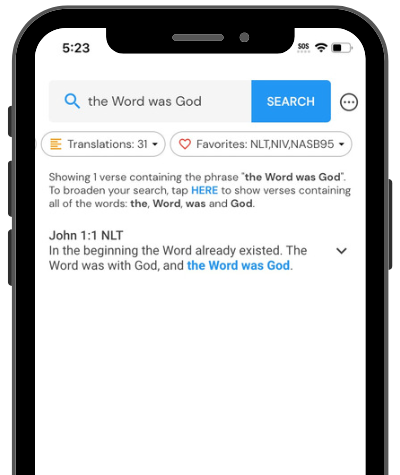 If it cannot find an exact phrase, it will find verses that contain all of the words searched, displaying the "and" results: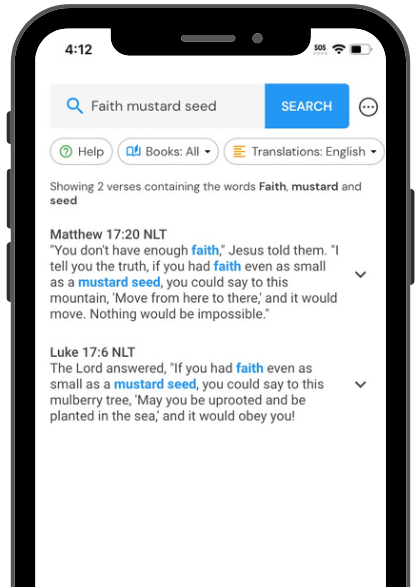 If it cannot find all of the words in the verses, it will indicate that 0 results have been found. You can tap the blue "here" option to expand this to include "or" results, where at least one word is in the result: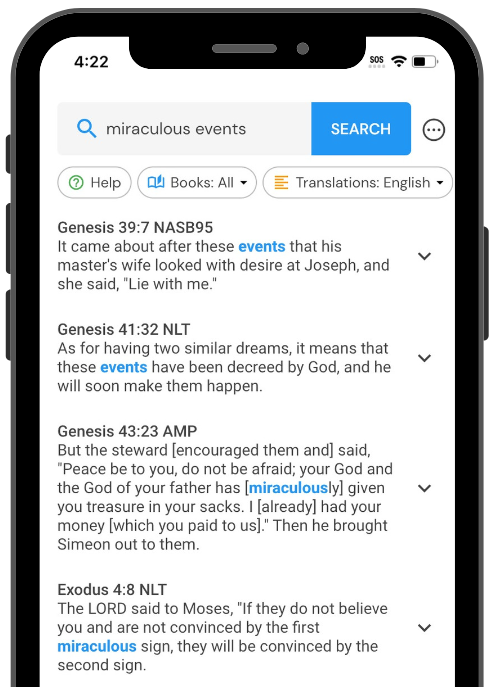 The search will complete partial word searches by default when using at least three letters. For example, searching the term 'justif' will show results for justify, justified. You can exclude these variations by putting quotation marks and spacing at the end of a word, e.g. "justify " will exclude justifying.
How to Filter Your Results:
In the top section, there are three filters for the search: Books, Translations, and Favorites.
The books filter allows you to select which Bible books you would like to see the results in. You can tap individual books or tap Old Testament / New Testament to select these.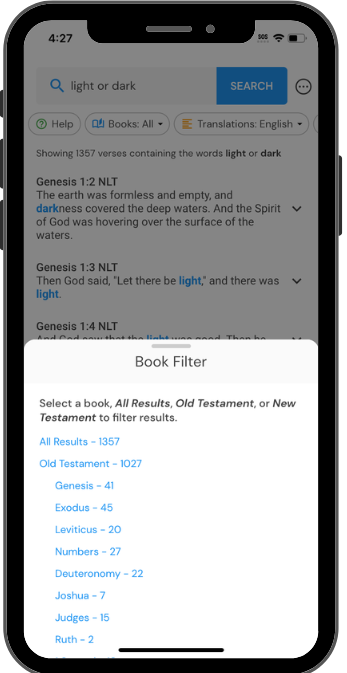 The translations filter allows you to pick which translations to search. If you would prefer to just search a few translations, you can tap the language category i.e. English to deselect all of the English translations, and then re-select the preferred ones.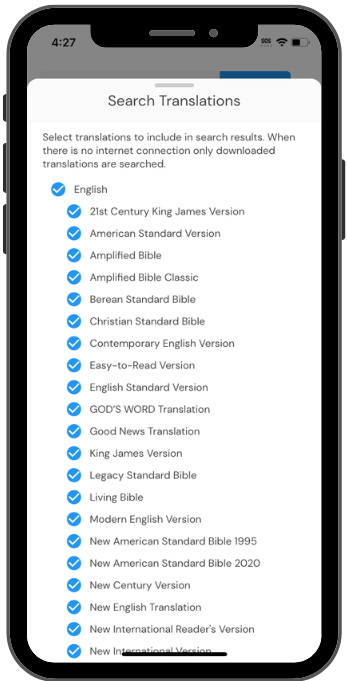 The Favorites filter allows you to prioritize translations in the results. You can favorite up to three translations: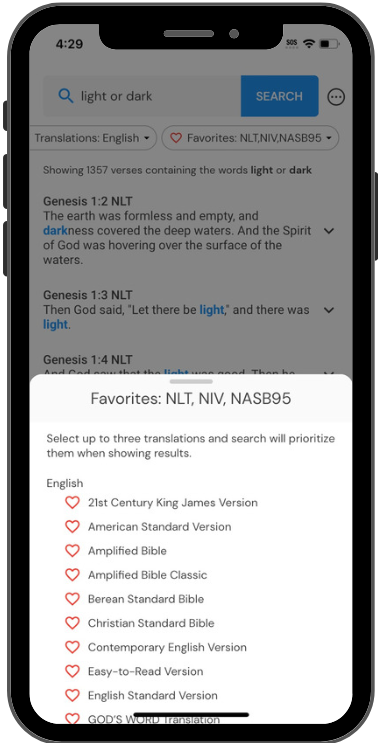 Recommendations if you're not seeing any results:
Make sure the spelling and spacing of your query is correct.
Adjust the books filter to broaden your search.
Enable more versions in the Translations filter so Life Bible can search additional word variations and tenses from other translations. This is especially helpful after you've also set up the Favorites filter.
Try simplifying your query, by eliminating words, if you can't remember the exact phrase. For example, rather than searching "he opened to us the scriptures", you could instead search "he opened scripture" which will also return Luke 24:32 and is much easier to remember.
Search result actions:
To see all actions you can perform on a result, tap on the down arrow to the right of a search result:

Context: Allows you to see the surrounding verses so you can better understand the setting the verse is from
Copy: Allows you to copy the verse so you can paste into a note or anywhere outside the app
Share: Allows you to share the verse using the system share dialog
Translation abbreviations: This indicates that other translations also show the same keyword you searched for at this specific reference (book/chapter/verse)
All: This compares the verse in all translations you've chosen

You can also select multiple search results or verses at one time. Simply hold down on a verse, then tapping on any other verse you'd like to select. A list of actions will appear that you can perform on your selection.
Boolean operators:
You can use the and/or operators between words to narrow your results. You can use as many "and" operators as you want, as long as all of the words are in the verse. For example, searching "light and dark and spirit" will show verses with the "and" results: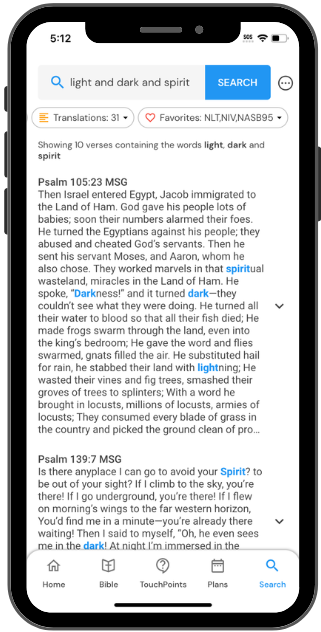 Searching "light or dark or spirit" will display the "or" results. You can use up to 3 "or" operators: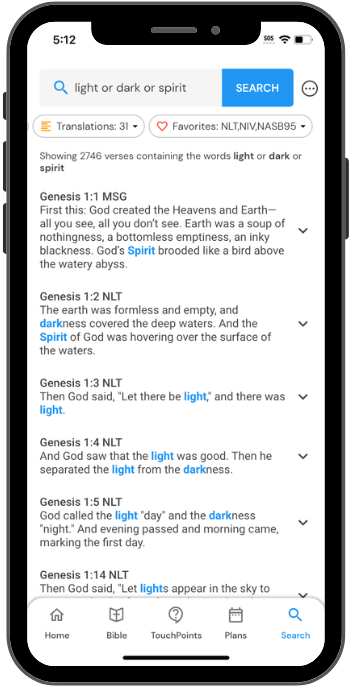 Export results:
You can tap the three dots at the top right of the Search tab to see the exporting/sharing options for the results: Share PDF, Print, Email.